There is never a dull moment for motorcycle owners down South in the Florida Panhandle. The calendar is packed full of motorcycle rallies all year round and there are seemingly endless beautiful routes to explore from the seat of your bike. It's really no wonder more and more people want to sell motorcycles in Florida, Georgia, or Alabama, where riding season never ends!
If you're looking to sell a used motorcycle for cash in Georgia, potential motorcycle buyers would love to jump on a Harley Davidson Sportster XL 883 or Kawasaki KLR 650 and check out the Coastal Plains of Georgia on State Route 42, from Byron all the way out West to Roberta, GA. Enjoy the curvy roads without the commitment of your whole day, as the route takes only an hour to ride, round trip!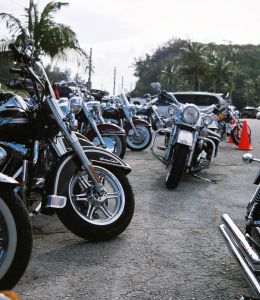 Selling a motorcycle in Alabama would give buyers the option to hit culture-enriched trails like the Covered Bridge Trail, the Civil War Trail, or the Native American Trail. By deciding to take a trip up north into Birmingham, Alabama, motorcycle lovers can visit the storied Barber Vintage Motorsports Museum, where there are nearly 1200 old or new motorcycles on display at any given time.
Florida, the state with the second most registered motorcycles in the country behind California, has some of the most dazzling routes and hangouts for motorcycle buyers in Florida to experience. If you choose to sell a bike in Florida you're opening up the possibilities for motorcycle riders to enjoy Panama City Beach and the Spinnaker Beach Club, known as one of the top beach front rally venues in the Thomas Dr. Corridor. After a rally, chill out at the Paradise Grill where a beautiful view of the Gulf of Mexico accompanies food, drinks, and live music.
The Florida Panhandle is the place to be for motorcycle riders, and also the place to sell your Harley-Davidson Sportster XL 883, Kawasaki KLR 650 or any other gently used motorcycle you're looking to unload. Sell Us Your Bike offers free quotes and a hassle-free selling experience so you can get quick cash and sell your motorcycle to those just begging to hit the trails in Georgia, Florida, or Alabama! Don't hesitate to contact us or give us a call at 1-800-963-9216.