Are you a recent motorcycle buyer in California looking for local motorcycle routes? The Golden Gate is one of the best places to ride your bike! Traveling from Sausalito to Leggett, California, this motorcycle ride takes approximately 2 hours and 55 minutes to complete with a total of 173 miles altogether. Not only is this trail a beautiful sight to see because it is filled with sparkling ocean views and twists and turns galore but the road is also great to drive on with a few restrictions.
When preparing for your bike ride from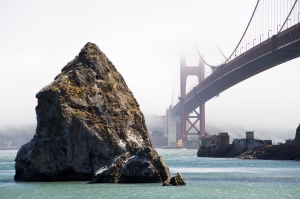 Sausalito to Leggett, know that it can get really crowded on the weekends just north of the Golden Gate. Between Mill Valley and Stinson Beach, there's usually a huge gathering from about mid-morning on. As you arrive closer to Pt. Reyes Station, the traffic seems to settle. Traveling past Marshall, Cali. up north to Tomales Bay is where the roadway becomes more amusing. Continuing to go further north, you will pass Jenner, CA and Stewart's Point. The scenery and ride is genuinely enjoyable at this point for recent motorcycle buyers in California.
The best part when riding through The Golden Gate comes once you pass Westport. After Highway 1 shifts inward from the coastline and starts its rise toward Leggett, there is never a dull moment. This part is normally the highlight of the ride because you get to see great stuff such as climbing through the redwoods and diving and dipping through the coastal creek sewerage. Some of the best riding while riding around Hwy 1 is not always the highway itself but is indeed the side roads you will travel.
We recommend everyone who is a new motorcycle buyer in California to make this trip at least once in their lifetime. You commonly hear about how exciting it is to visit the Bur Sur region just south of San Francisco, California but The Golden Gate is more rewarding.
If you are looking to upgrade your current motorcycle before hitting The Golden Gate route, we will help you sell your old bike today! With quick cash in your hand from Sell Us Your Bike, you can purchase your new motorcycle in no time!