In California, the weather is always nice and the scenic variety is amazing so it's no wonder why there are over 200,000 more registered motorcycles in California than there are in the next closest state. Considering how large the state is, how many people live there, and how conducive the year-round sunny weather is to riding, it's safe to say there will be no shortage of motorcycle buyers in California anytime soon!
Since the personal or financial situation of everybody varies, the fact that so many people are eager to become one of the many motorcycle buyers or owners in California could benefit you if you have been in a bit of a pinch. While California has its definite upsides, it also contains three of the most expensive cities in the country to live in, which goes to show that it is a generally pricey place to call home. So if you happen to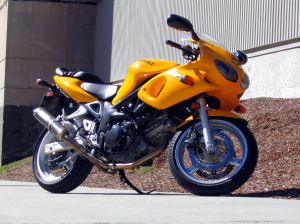 live in any of those cities or have felt the trickle-down effect of the economy where you do live, and want to sell a motorcycle in Orange County, San Jose, or San Francisco California, we at Sell Us Your Bike want to lend you a helping hand!
Whether you bought a used motorcycle just this past year and now realize you are in over your head, or you have been a longtime rider and feel like it's your time to move on, we can tell you how to sell a used Kawasaki or Harley Davidson motorcycle in California. It's far too dangerous to setup meetings at your home with strangers looking to check out your bike, as posting your personal address in ads can leave you vulnerable to theft. Also, what about test rides? You may feel backed into a corner to let someone test ride your bike if you think that will lock up a sale, but you don't know how experienced of a rider they are. What if they get into an accident? Don't take any risks like these. In fact, save your time altogether and get a free quote from us today. We just ask that you be as descriptive as possible in the form, filling out information like what model it is, how old it is, how much mileage is on it, and your asking price. Once both parties agree on a deal, the process gets even simpler for you.
We make selling motorcycles in California easy by not only buying a motorcycle for a fair price in San Jose or San Francisco, California, but by taking the trip out West and picking it up ourselves. When we secure your motorcycle into our trucks and drive away, you'll be left standing with a check in hand, and the ability to pay expenses that have been stressing you out, like rent, home mortgage, or medical bills. If you've been wondering "How do I sell my motorcycle in California?" then wonder no more. Just go through Sell Us Your Bike, one of the largest wholesalers in the U.S., and get cash fast for your used motorcycle in California!