Are you planning on taking a motorcycle trip to Las Vegas? Or, are you looking for a special sport bike or crotch rocket to buy? If so, you will want to know the best motorcycle hotspots within the city. There are many places for motorcycle buyers to visit within Las Vegas Nevada to have fun along with all the other motorcycle enthusiasts in town.
Motorcycle owners within the Vegas area take great interest in the Las Vegas Harley Davidson Cafe. With seating for up to 1400 people, you are guaranteed to have a great time upon entering this amazing cafe. Displayed throughout the cafe, there is a large amount of motorcycle history and memorabilia for you to enjoy.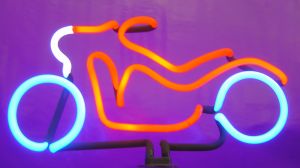 Las Vegas Harley Davidson Cafe is known to be the "Best Bar-B Que in Las Vegas!" From Kick Starts, to Hot-Rod Hamburgers, and of course your Standard Lubricants, you will find something that will satisfy your appetite.
So, whether you are one of the motorcycle buyers in Las Vegas, NV looking to get a new ride, a bite to eat or just a fan of Harleys, we recommend visiting the Harley Davidson Cafe for a very unique and cool experience.
If you are looking to retire your current Harley, check us out, we are one of the largest motorcycle buyers in Nevada!