Let's be honest, trying to sell your used motorcycle through the local classifieds or online classifieds is nothing but one big hassle. Motorcycle sellers in Pennsylvania or Kentucky, we know you want cash for your motorcycles as soon as possible and can do without the headache of sitting around, playing the waiting game.
At Sell Us Your Bike, one of the largest motorcycle wholesalers in the United States, we want to buy your used motorcycle or power sport vehicle in Kentucky or Pennsylvania. Trust us when we say we offer top dollar for  your pre-owned motorcycle, and you don't even have to drive a mile to sell it; we are willing to come to Lexington, Kentucky or Pittsburgh, PA to pay residents cash on the spot for their motorcycles!
At Sell Us Your Bike  we do more than buy only motorcycles. We also purchase low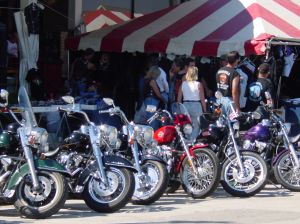 mile, used dirt bikes, snowmobiles, ATV's or street bikes from Kentucky or Penn. residents. We prefer to buy clean bikes that are ready to roll, but if your used vehicle is a
little beat up, we do consider buying wrecked or salvaged machines on occasion. We will also consider current parts for street bikes made in 1994 and up.
So whether you are selling a used Kawasaki street bike, Honda spot bike, Suzuki motorcycle, Harley Davidson cruiser, or even a foreign or custom motorcycle in Philadelphia, Pennsylvania or Lexington, Kentucky, we are looking to buy all types of pre-owned motorcycles, and give you the highest amount of cash possible.
If you're thinking, "I want to sell my motorcycle and I need money for it now," then what better place to turn than one of the largest motorcycle buyers in the U.S.? The days of going gray waiting for a call back on your classified ads are over. Those looking to sell a motorcycle in Pennsylvania or Kentucky can simply contact us so that we can come to you, load up your bike and pay you properly for your used motorcycle or power sport vehicle.
Selling used motorcycles is made easy at Sell Us Your Bike. Give us a call at 1-800-963-9216 or request a quote today!