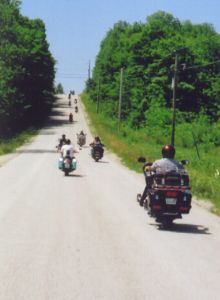 As we prepare for our usual expeditions looking for residents selling motorcycles in the Midwest, we want to know who is thinking "I want to sell my motorcycle fast," in Ohio or Illinois. We know that sometimes things change. Maybe you don't have the kind of free time to ride your Harley Davidson that you had a few years back and you're in need of some extra money. If that's the case then let us make the motorcycle selling process easy for you.
At Sell Us Your Bike, we're gearing up to drive through each state, watching the seasons change along the way as we buy motorcycles in Illinois or Ohio.
Located in Temperance, MI, just 10 miles north of Toledo, Ohio, the journey is convenient for us, but not quite as convenient as it is for you. Those looking to sell motorcycles for cash in Chicago, Illinois or get cash for bikes in Cincinnati, OH don't have to worry about driving up to "The Mitten" to sell your bike. We want to buy your motorcycle at the most convenient location for you, so if that's your home, work, or the grocery store then that's fine by us! Let our professionals make the trip to those looking to sell a motorcycle in Ohio or Illinois, load your gently used motorcycle on to our truck and pay you the balance in exchange. It's just that easy!
To show you how serious we are, we're now offering deposits on your bike. All you have to do is spend a few minutes filling out our quote form, be sure to note that you are selling a bike in Illinois or Ohio, and we will let you know how much we will pay for your bike. Once it's a done deal, we will send you a deposit check. Who doesn't like cash upfront? Letting us come by and purchase your used motorcycle in Illinois or OH is much easier than the hassle of posting flyers or online listings, we guarantee that!
The motorcycle professionals at Sell Us Your Bike wants you to know that we buy motorcycles in Ohio or Illinois for great, low prices. Whether you live in Peoria, IL or Columbus, Ohio, the motorcycle buyers at Sell Us Your Bike is in search of those looking to sell a gently used Harley Davidson, Kawasaki, Suzuki or just about any other brand under the sun. Just contact us or give us a call at 1-800-963-9216 to get the ball rolling today!
Other Resources: