We Are Motorcycle Buyers
We buy used motorcycles for cash. Also, we buy motorcycles anywhere in the United States. We buy all styles of motorcycles and we buy all makes of motorcycles.
Let's say as an example that you are in California and have a motorcycle you want to sell, we buy motorcycles in California. Also, let's say you're in Florida or up in Connecticut or down in Texas and want to sell your motorcycle, you want to find motorcycle buyers otherwise you can't sell your motorcycle.
Let's say you have a Suzuki or a Harley or a Yamaha or a Kawasaki, a BMW or a Triumph or a Ducati or for that matter any other make of motorcycle, we buy all motorcycles. Like we said we are motorcycle buyers and we pay cash for motorcycles anywhere and we buy any type of motorcycle.
Now that you know that we are motorcycle buyers, the next step is up to you. We can't possibly know of every motorcycle that is for sale so the easiest way to sell your motorcycle to a motorcycle buyer like us is to let us know about your motorcycle that you have for sale. East of the Mississippi or west of the Mississippi, north of the Mason-Dixon Line or south of the Mason-Dixon Line, we're interested in buying your motorcycle.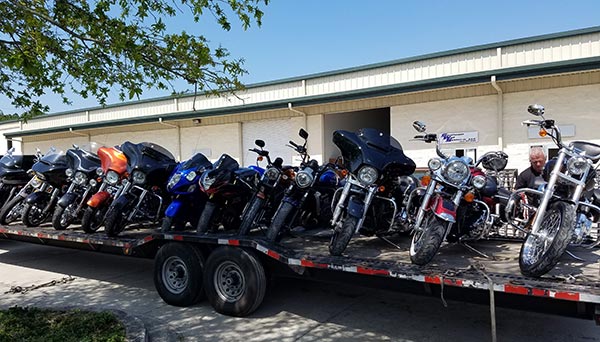 We travel all across the US to buy motorcycles. In addition, we are one of the largest motorcycle buyers anywhere and we are always in search of motorcycles to buy. We buy cruiser motorcycles, sportbike motorcycles, dirt bike motorcycles, scooters and more. If it has two wheels or even three wheels, we are motorcycle buyers that want to speak with you about buying your motorcycle.
Nationwide Motorcycle Buyers
Tell us about your motorcycle by calling us toll-free at 800-963-9216 or use our convenient online form to tell us about the used motorcycle you want that you want us to buy from you. We, in turn, will offer you the highest prices possible when we offer to buy your motorcycle. If we agree, then we will make arrangements to pick up your motorcycle from you. When we do pick it up, we'll pay you cash and we will then handle any details such as any ban payoffs you may have and title transfers and all of the necessary paperwork.
Now that you've found motorcycle buyers that are reputable (we've been buying motorcycles for over 10 years), why not make the next move to let us know about your motorcycle for sale. Otherwise, we will both miss of=ut on the opportunities that await both of us.