Pennsylvania Route 666, what some motorcycle riders call "One hell of a ride!"  Located in the heart of the Allegheny National Forest, you will experience 30 miles of trees zipping past you on both sides, with banked turns, and a downhill cork-screw halfway through that is sure to get your adrenaline pumping!
This short trip is highly recommended in the summer and fall months, while roads are dry and trees are colorful. You will start your ride in E. Hickory, PA traveling through Kingsley, and Howe until you reach your final destination of Barnes, Pennsylvania.  Filling up on gas is a must before you hit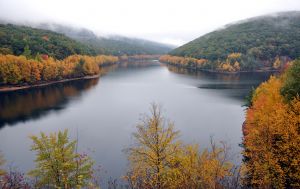 666. Along the way, there is nowhere to stop, no gas stations, no bathrooms, no food.
Within the PA 666 area, motorcycle enthusiasts have recommended many great sites to see, such as the Kinzua Bridge collapse, Kinzua bridge, as well as the Austin Dam disaster.  Also, the Cooks Forest areas is a great place to set up and camp. You can extend your 30 mile ride into a weekend of wildlife and nature.  There are areas for you to hike, fish, or raft while enjoying the great outdoors.
There are many out there dying to ride Route 666, but are first searching for a used motorcycle. If you are looking to sell your bike in the Pennsylvania area, contact us today and we will find someone interested in buying your motorcycle!