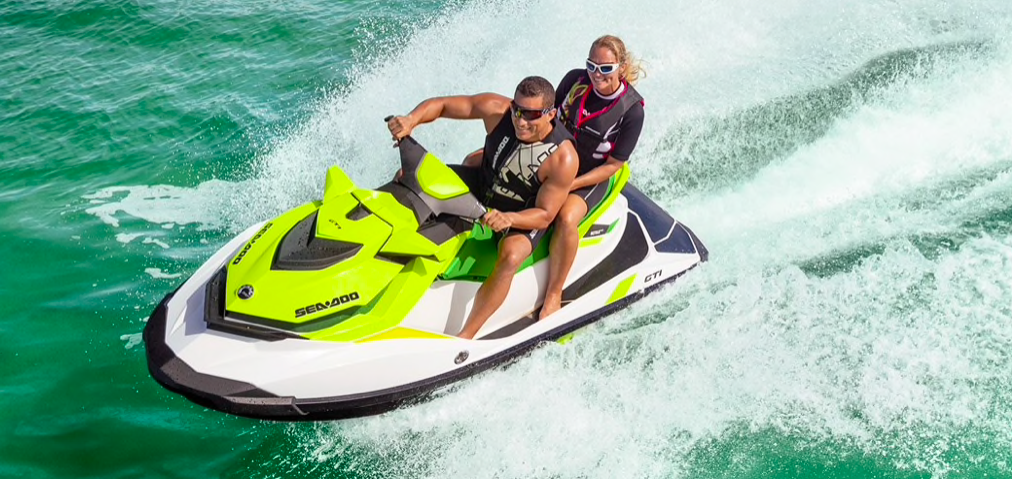 Model: GTI 90/130
Type: Personal Watercraft
Size:3 Person
Engine type:ROTAX 900 HO ACE (GTI 90) / ROTAX 1503 (GTI 130)
CCS:1,494 cc
Fuel Capacity:15.9 gallons
Fuel Type: 87 octane
Throttle System: iTC™ (Intelligent Throttle Control) system
Why the GTI 90/130?
Have you ever ridden a GTI 90/130? If you have, then you understand why they are in such high demand. The GTI 90/130 has the best balance so far and the power from the ROTAX 900 HO ACE, in the GTI 90, and the ROTAX 1503, in the GTI 130, is unmatched. Furthermore, the IBR (Intelligent Brake and Reverse), exclusive to the Sea-Doo vehicles, provides more control and maneuverability in stopping and reverse at low speeds.
The GTI 90/130 is a quiet and peaceful ride that can surf waves and sea currents without difficulty. This ride is cleaner and more environmentally friendly than the Sea-Doo brand's previous models. For example, the GTI 90/130 is the only Sea-Doo watercraft with Eco mode, an exclusive feature that optimizes power output for up to 46% improved fuel efficiency.
The Sea-Doo brand has been producing luxury watercraft vehicles since 1968 when the first-ever Sea-Doo vehicle was launched. Their goal of producing elite watercraft vehicles that have full power yet a perfect balance has made them well known in the industry. And since their introduction of the legendary four-stroke multi-port fuel-injected engine, they have been a prominent leader within the watercraft industry.
We Buy SEA-DOO Watercraft
If you want to sell your GTI 90/130, we are interested in buying it! You can sell your Sea-Doo watercraft quickly and get some cash money in return! All you have to do is fill out a form with details of your GTI 90/130. We will contact you as soon as possible with a free quote. What are you waiting for? Get some cash for your old Sea-Doo GTI 90/130 today!
Get A Quote For Your Vehicle