Have you been thinking about selling your motorcycle for a while now but are unsure of where to go? Deciding on how to go about selling a motorcycle in Kentucky or Tennessee can be a daunting task. Notifying some friends that you have a motorcycle for sale in Tennessee or Kentucky or expecting to sell that motorcycle to them for a fair price is a long shot. Also, what do you do if the motorcycle you own is not as popular in your area as it is in other parts of the country? Is it worth taking the cross-country journey to sell your bike?
As far as registered motorcycle owners by state go, Kentucky or Tennessee are in the middle of the pack in the U.S. So, maybe the Harley-Davidson Cruiser or Ducati Street Bike that you own isn't garnering as much interest in Lexington, Kentucky or Memphis, Tennessee as it would in California, Michigan or Pennsylvania, where riding is more prevalent.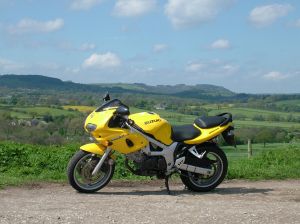 Sell Us Your Bike can open up your demographic and sell your motorcycle to eager motorcycle buyers all over the country! You don't have to limit yourself to friends or those in local or online classifieds. By selling your motorcycle to us you save yourself a lot of valuable time. Instead of showcasing your motorcycle on the weekends or spending time fielding phone calls for your bike, you can spend more time with family and friends by going through Sell Us Your Bike. Let us do the busy work for you.
You don't have to put an extra mile on your motorcycle to drive it up to us. We are taking trips down south all the time to assist motorcycle sellers in Kentucky or Tennessee. Don't stress about riding your Harley-Davidson Cruiser or Ducati Street Bike miles and miles away from home and then having to deal with finding a way back. We will come pick up your motorcycle, safely store it in one of our clearly marked trucks, and pay you cash on the spot for your motorcycle in Kentucky or Tennessee. It's just that easy.
Just fill out a free quote form and let us get to work for you. We buy motorcycles for cash in Kentucky or Tennessee, and for the fair price that your bike is worth, while other potential buyers might try to talk you down. Do yourself a favor and save yourself the time, money and headache. Contact Sell Us Your Bike today! 1-800-963-9216.