Although it can be a thrill for less than half the year, Harley Davidson owners in Michigan may feel like they're not getting their money's worth due to all the unbearably cold weather that "The Great Lake State" brings. If you have taken on new expenses over the years and are starting to realize that keeping your Harley Davidson stored away in the garage or storage for 4-6 months every year just isn't worth it, it may be time to tell yourself "I want to sell my Harley Davidson fast." This can obviously be an emotional decision, but once you decide to eliminate the non necessities such as your Harley Davidson, Sell Us Your Bike will help you get quick cash in your pocket.
We are constantly making nationwide sweeps, coming to the home of motorcycle sellers all over the U.S. to buy their Harley Davidson for cold, hard cash – right on the spot! But luckily for Harley Davidson sellers in Michigan, this is our home state, so it's nothing for us to hop into one of our trucks and meet you at your Detroit, Michigan or Grand Rapids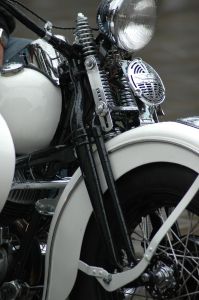 , MI location to make the trade.
Selling your gently used motorcycle online or through newspaper classifieds is a thing of the past. You shouldn't have to deal with a constant visit from strangers, who may have no intention of buying your Harley Davidson, taking full advantage of test driving (and possibly damaging) your bike. Not to mention hauling your Harley Davidson in and out of storage for appointments for who knows how many weeks before you finally sell it to someone.
Sell Us Your Bike makes the selling process quick and painless for people looking to sell their Harley Davidson in Michigan. All you have to do is take a few minutes to fill out our free quote form and then we will get back to you promptly. We'll make you a fair offer over the phone and even send you a deposit for your Harley-Davidson once the deal is finalized before paying you the remainder of the funds when we come and pick up your bike. You're not going to get that with one of your local tire-kickers!
We also deal with the banks and financial institutions for loan payoffs so you don't have to deal with going to the bank to pay off your loan before you can sell your used Harley-Davidson. So if you are looking to sell, know that we are looking to buy your Harley Davidson motorcycle in Grand Rapids or Detroit, Michigan. Please contact us or give us a call at 1-800-963-9216 if you have any questions or concerns.