Riding a motorcycle or cruiser through out country's East Coast has its perks. From Chesapeake's eastern shores in Maryland up to the Cape Cod bluffs of Massachusetts, there is no shortage of beauty and history to take in.
So if you're in the market to sell your Honda cruiser or Harley Davidson motorcycle in Massachusetts or Maryland, there are motorcycle buyers all over the East Coast just dying to explore the sights.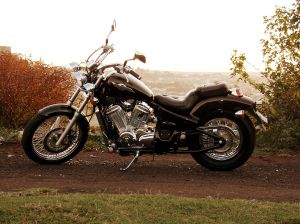 Sell Us Your Bike, one of the largest motorcycle buyers in the U.S., wants to buy your used Honda or Harley Davidson cruiser. As long as it was made after 1985, we're always in search of good, clean used motorcycles to purchase so that we can sell them to those looking to buy motorcycles in Maryland or Massachusetts.
One of our most popular cruisers is the Harley-Davidson Sportster XL 883. This motorcycle was built in the same mold as the original infamous Harley. Equipped with an overhead valve engine and the classic Harley power and styling that its riders have come to expect, it has become a favorite for many motorcycle enthusiasts. If you're looking to sell your used Harley Davidson Sportster XL 883 in Massachusetts or Maryland, we are looking to buy it!
The Honda Shadow Spirit is another popular motorcycle that we are always anxious to get our hands on, because its outstanding handling and braking makes it a favorite of inexperienced or first-time riders. The new 750 version is equipped with a 745cc, liquid-cooled, 52-degree, V-twin engine, making it just as powerful as it is easy to handle.
Those looking to sell their Honda or Harley Davidson motorcycles in Maryland or Massachusetts can do so, stress-free. At Sell Us Your Bike, We pay top dollar and make it a no-hassle sale on your end. So contact us today at 1-800-963-9216 or fill out a quote form so that we can buy your used Harley-Davidson or Honda as soon as possible!