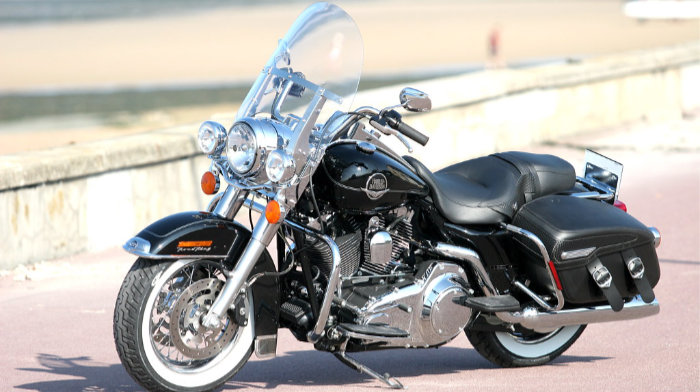 When it comes to the Harley-Davidson Road King Classic, it combines a classic look with modern technology. The Road King is an actual replacement for the Electra-Glide Sport. This bike was introduced in 1994 with hard saddlebags and a windshield.  Also, it originally had a 60 horsepower Evolution engine. In 1999 the engine changed to a 1450 cc Twin Cam 88 engine.  Today the fuel capacity has increased and the handlebars were redesigned.
The Road King Classic In Service
When it comes to police and fire departments, Harley-Davidson made a special edition of the Road King designed for them. In addition, over 3,400 police and fire departments use these bikes. Also, this popular style of bike has been used in television and movies. Shows such as 24 and Rescue Me as well as movies such as 2012 and The Interpreter has used this motorcycle. With a great ride, leather saddlebags, and a powerful engine, the Road King is a popular model.
Whether you are in for a long road trip or just a ride around the neighborhood, this Harley-Davidson is a perfect choice. There may come a time when you are looking to sell your old Road King, that is where Sell Us Your Bike comes in. At Sell Us Your Bike, we make it easy to sell your Road King Classic or any cruiser for that matter.  The process is easy and hassle-free. You will not have to deal with pushy dealerships again.
Simply fill out our quote form right here. Once we get your submission we will respond with a great offer. Once agreed upon, we schedule to pick up your bike and issue you a check. Just that simple!  It is a quick and easy way to get cash fast for your used motorcycle. Do not hesitate, sell your Road King today and get the cash you deserve from Sell Us Your Bike!