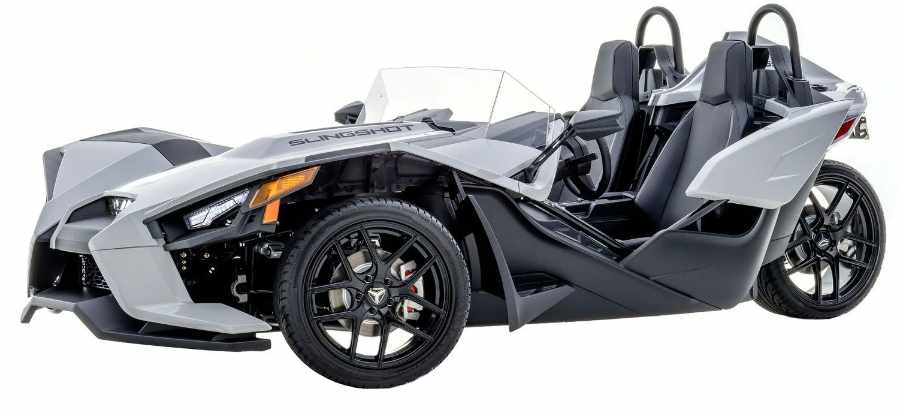 The Polaris Slingshot Unique and Stylish
Not many vehicles on the road today are as unique as the Polaris Slingshot! The ultimate three wheel adventure awaits you with a Slingshot. Polaris made a name for themselves with snowmobiles and off-road side-by-sides. They now bring their unique styling to the three-wheeled trike category.
The History Of The Slingshot
The original Slingshot was based on a prototype back in 2010. Also, by 2014 the prototype was moved to production. Arriving in showrooms by 2015, the Slingshot S and SL models were the very first. The S model offered a roomy cockpit area, and the SL version had more features available. In addition, the SL model offered larger custom wheels.
The 2016 model offered even more features such as unique colors, alloy wheels,  and turn-by-turn navigation. Furthermore, in 2017 the SLR model was introduced. This model offered even more performance, sports seats, and much more. Polaris introduced the Gran Touring model in 2018. This model offered more comfort and luxury than the standard models.  The 2020 model offered up to 70% new content compared to other models.
With each new year, Polaris improved on the models and offered a better ride every time.
Customizing
One great aspect of the Polaris SLingshot is the ability to customize just about everything.  In addition to colors, you can select accessories, and much more. You can make your Slingshot look exactly how you want it.
If you are looking to sell your Slingshot, at Sell Us Your Bike we are always looking to buy. Also, we will offer you a great quote on your used bike. In addition, we make the whole process easy and hassle-free. Simply fill out the form below, and we will contact you with an offer. Once the offer is accepted we will arrange payment and pick up of the vehicle. Just that simple! Finally, get the cash you deserve for your used Polaris Slingshot!
Get a Quote For Your Polaris
"*" indicates required fields