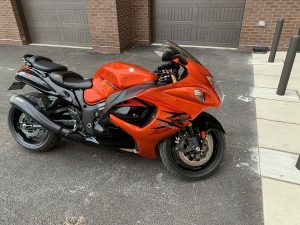 Suzuki is an iconic name in the motorcycle industry. Since Suzuki has been around for decades, they have a variety of motorcycles. One of them is the Suzuki GSX 1300R. Also known as the legendary Hayabusa. Named after the Japanese Peregrine Falcon, it is shown to have insane speed and charm. Because of this, the desire to own this motorcycle is high. So, you need to find a buyer that knows its value. That is why you should sell it to Sell Us Your Bike.
Suzuki GSX 1300R 'Hayabusa'
The Hayabusa line is one of Suzuki's motorcycles. Most people who own or desire these bikes can recognize their unique design. Hayabusa models have an aerodynamic frame. Due to this, its ability to handle high winds is remarkable. Furthermore, its other features help get the Hayabusa to its highest speed.  While having a high focus on speed, its other features make it well-rounded for a sportbike.
However,  the GSX 1300R model has a highly loyal following. Since 1999, the GSX 1300R has been acclaimed as the world's fastest production motorcycle. People fell in love with this bikes' ability to go almost 200 mph. Consequently, the speed was frightening to the point that European and Japanese manufacturers had to agree to set a speed limit. This has made the unrestricted 1999 version sought after by collectors.
In addition, its speed does not compromise any other aspects of the bike. Many reviewers complimented the all-around performance of the Hayabusa. Most of all, it is a timeless classic among sportbikes.
Money For Your Hayabusa
While the Hayabusa is legendary, sometimes you want an upgrade. After all, Suzuki GSX 1300R releases a new model every year. In addition, you might want to try a new type of bike. Rather than sell your Hayabusa to any buyer, you should sell it to us.
Sell Us Your Bike is the best place to sell your motorcycle. After all, the process of selling your Hayabusa can be tough. While you can go onto Craiglist, you are going to get some unique buyers. In addition, the time spent looking for a buyer and sealing the deal is more than people have.
At Sell Us Your Bike, there is no hassle. Rather than dealing with trouble, you can use our simple and easy process. Simply fill out the quote form. After that, we will offer the best deal for your bike and pick it. Most of all, you get cash for your motorcycle. So get the money you deserve at Sell Us Your Bike!
Get A Quote For Your Vehicle