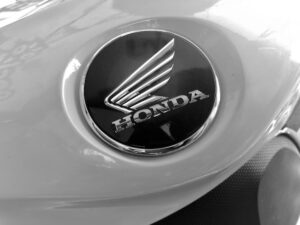 If are you selling your Honda for cash, then you have come to the right place! Sell Us Your Bike is always looking for Honda models to purchase. Honda has a rich history in the motorcycle industry, making all of their product lines in high demand. From the iconic Goldwing to the Supersport brands, Honda delivers a stellar line-up that can appeal to motorcycle fans! That is why buy Honda and also the reason why you might be selling your Honda for cash! So, what makes Honda motorcycles so iconic?
History of Honda
Originally, Honda started off as a bicycle auxiliary engine manufacturer. In 1947, Honda released their first bicycle with an auxiliary A-Type engine. After this success, the Honda Motor Corporation was founded, developing new engines for bikes. It took only a decade for Honda to be able to enter the Isle of Man TT Races with their own motorcycle. The growth of this company was rapid as it was able to enter the American markets by 1959. Since then, Honda has become a popular brand throughout the world. But, what is the greater appeal of Honda motorcycles?
The Appeal of Honda Motorcycles
When it comes to Honda products, the power sports available are top-of-the-line. First of all, they have a variety of motorcycles that can appeal to anyone. If you are looking for a touring bike, the Honda Goldwing is a good match. The company also has excellent cruiser models like the Honda Fury, Shadow Phantom, and Rebel series. Honda has a regular line-up of sports bikes and their special sports brand, Supersport. There is also a line of classic off-road motorcycles for motor-cross fans to take out for a spin.
However, they have more than just these motorcycles. Honda has the Minimoto, smaller bikes that have a unique style to them. There is also the Adventure series, a brand of dual sport bikes that bring a little fun to the rider's everyday life. In addition, they also have an excellent scooter for everyday use. However, Honda has more than just motorcycles. The company also has an extensive selection of ATVs and Side-By-Side used for sport and utility purposes.
Selling Your Honda for Cash
With many appealing motorcycles and ATVs, Honda products are always in demand. However, finding the right buyer can be a challenge. If you are selling your Honda for cash, then look no further, Sell Us Your Bike is one of the nation's top Honda motorcycle buyers. Just fill out the form below and we'll give you a fair and free quote!
Get A Quote For Your Vehicle
We Want to Buy!