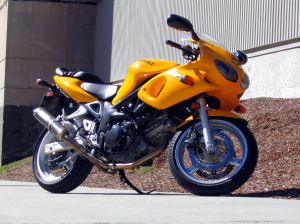 If you are in need of a little extra cash in Houston, TX, have you considered selling your motorcycle? Motorcycles are not a necessity, if you need to let something go, selling a motorcycle in Houston, TX is a great place to start. At Sell Us Your Bike we make the best motorcycle offers in Houston, TX for those looking to sell their motorcycle for quick cash. In just a short time you can make a couple thousand dollars, or more, just simply ask us for an offer!
Regardless of why you may need some extra cash doesn't matter. What matters is that you are getting the cash you need by selling your motorcycle in Houston. Of course you can go through local classifieds and eventually sell your motorcycle to local residents, but that can take days, months, or even years, before you find a serious buyer willing to pay what you are asking for your motorcycle. Many who sell on local classifieds or online sites aren't sure what their bike is even worth, but you can find out now what you're your motorcycle is worth in Texas before you sell to us, or anyone else!
Quick Cash In Houston Texas
Quick cash doesn't have to be hard to come by if you are willing to sell what others are looking for, such as used motorcycles in Texas. Just get a free offer on your motorcycle, we will send you a deposit, and upon pick up of your motorcycle we will hand over cold hard cash! Because we are professionals in the motorcycle industry in Texas, we know what Houston residents deserve for their motorcycles. Rather than trying to undersell yourself to the public, let us take your used motorcycle off your hands today.
We will buy any make or model bike, from any year, but we always have bikes that we really want such as:
Harley Davidson Motorcycles
Yamaha Motorcycles
Ducati Sport Bikes
Honda Crotch Rockets
If you are the owner of a Harley Davidson, Yamaha, Ducati, or Honda motorcycle, or any other make or model and are considering selling your motorcycle in Texas, talk with us today!