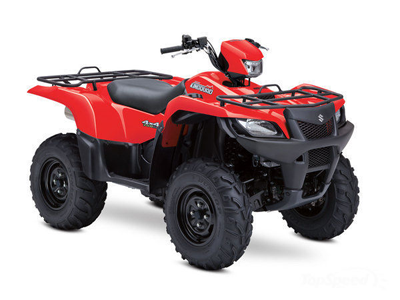 The Suziki KingQuad is one of the toughest vehicles in its class. Its unstoppable character makes it perfectly suited for a wide range of rugged activities. KingQuad is just one of the more popular ATVs, along with the KingQuad there are also the Yamaha Grizzly or the Kawasaki Prairie.
If you are looking to buy one of these great Quad ATVs but need to sell your old one first, let Sell Us Your Bike help you. No matter what you are selling, atvs, utvs, side-by-side or quads we are interested in your vehicle! We are also interested in all brands such as Ymaha, Suzuki, Kawasaki, Artic-Cat or KTM.
The Suzuki KingQuad is a great ATV, why waste time paying on your old ATV, sell your ATV to us today! The process is simple, fill out our free quote form, we will contact you in a timely manner and arrange pick up of the vehicle and cut you a check for it. That Simple!
If your not comfortable with online forms, give us a call today at 1-800-963-9216