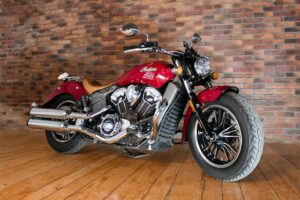 Yes, we buy Indian Motorcycles! As one of the best online buyers of motorcycles, our company buys a variety of brands and models. However, we also purchase the more unique, customized, and often not as popular makes and models.
Indian motorcycles are now in demand and for a good reason! Within the past few years, Indian Motorcycle has seen significant growth in sales and market share in the U.S. In 2021, Indian Motorcycle was the second best-selling brand in the U.S. in the heavyweight motorcycle segment (over 601cc). So, what makes this brand so special?
History of Indian Motorcycles
Indian motorcycles have a long history in the United States and have gained a dedicated following over the years. In 1897, the Indian Motorcycle Company was founded under the name Hendee Manufacturing Company by George M. Hendee. Originally, the company sold bicycles. However, the first Indian prototype started development in 1901.
From there the commercial success of these bikes began to soar, hitting amazing heights during World War I. After the war, the Indian Motorcycle Company would die out ending its production in 1953. There were many attempts to revitalize this company. However, none would succeed until 1999. Since then, these motorcycles have been in the spotlight!
Indian Motorcycle is currently owned by Polaris Industries, a global leader in power sports and off-road vehicles. Polaris acquired Indian Motorcycle in 2011 and has invested heavily in the brand, introducing new models and technology to appeal to a wide range of riders.
Type of Motorcycles
Indian Motorcycle produces a range of power sports vehicles, including cruiser motorcycles, touring motorcycles, and three-wheeled vehicles. The brand's cruiser motorcycle lineup includes several models, such as the Scout, Scout Bobber, Scout Sixty, and Chief. These models feature classic styling and are designed for leisurely riding and cruising.
Indian Motorcycle's touring motorcycle lineup includes models such as the Roadmaster, Challenger, and Chieftain. These bikes are designed for long-distance travel and feature comfortable seating, storage options, and advanced technology. People who buy Indian Motorcycles really appreciate the road!
Indian Motorcycle also produces three-wheeled vehicles, including the Indian Roadmaster Elite and the Indian Challenger Limited. These vehicles offer a unique riding experience and are designed for riders who want a blend of stability and performance.
What is the Most Popular Indian Motorcycle?
It's difficult to say which models are the most popular, as customer preferences can vary widely. However, Indian Motorcycle cruiser and touring models are generally well-received and have a strong following among riders!
---
Who Buys Indian Motorcycles?
Avid riders will. Still, there does come a time to sell your Indian Motorcycle. Many will want to take advantage of the market or need money for other essentials. What then? Call or contact Sell Us Your Bike. We will buy your Indian motorcycle and pay cash! If you want to know the value of your motorcycle, please fill out our obligation-free motorcycle quote form today!