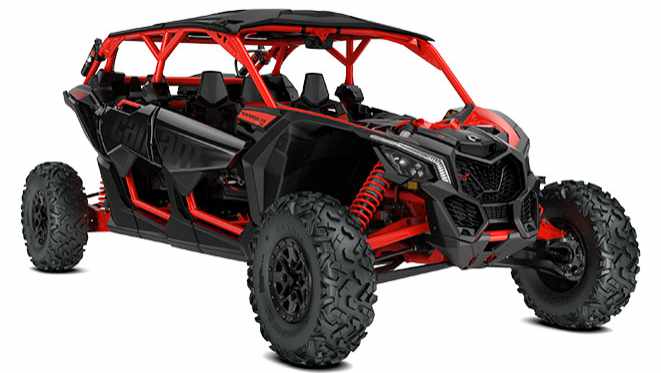 Can-Am is a well-known brand for ATVs and UTVs.  One of their most popular models is the Can-Am Maverick side by side. When it comes to off-roading you cannot go wrong with this Can-AM model. In addition, it is one of the preferred models to use for rock climbing! One of the first things you will notice is the interior is well designed with ample storage.
Can-Am Maverick UTV
The Maverick offers a short wheelbase and a great power to weight ratio which makes it a great ride. From the forest to sand dunes, the Can-Am Maverick is a great choice. In addition to great power, this UTV has terrific handling. From tight turns to winding trails it can handle it all. For the suspension, it uses a double A-Arms in the front and a Torsional Trailing Arm (TTA) in the rear.
Can-Am history started with a Canadian inventor named Joseph-Armand Bombardier all the way back in 1937.  IN 2003 Can-AM became a stand-alone company specializing in off-road vehicles. In addition to ATVs and UTVs, they also offer quite a few snowmobiles that are considered the industries best. When it comes to a Can-Am vehicle you really cannot go wrong.
Selling Your UTV
When it comes to selling your side by side or an ATV, your best choice is Sell Us Your Bike. We will offer you what you deserve for your used Can-Am. Also, the whole process is easy and hassle-free. Simply fill out the form below and we will contact you with a fair offer. Then we will arrange to pick up of the vehicle and issue you a check. Just that simple! Finally, we are always looking for UTVs and ATVs to buy, so sell yours today!