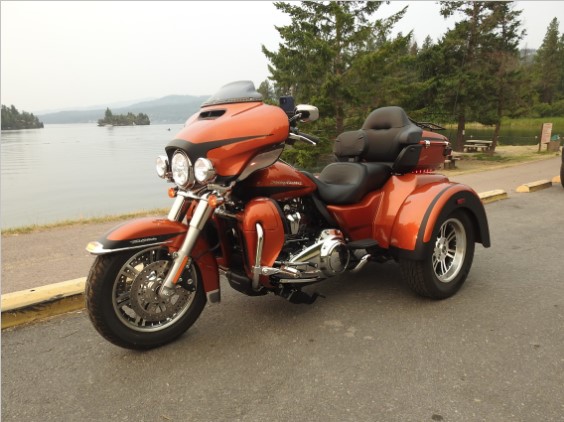 Harley-Davidson FLHTCUTG Trike is a part of the cruiser lineup. Also known as the Tri Glide Ultra Classic, its style has no comparison. The trike has seen some spotlight, leading the parade for Barrak Obama's inauguration. However, what makes this motorcycle special?
Origins of the Harley-Davidson Trike
The Tri Glide Ultra Classic was introduced in 2009. While FLHTCUTG Trike was the latest Harley-Davidson cruiser, it was not the company's first trike motorcycle. The Harley-Davidson's first trike since the Servi-Car, a three-wheel utility motorcycle. The Servi-Car was made during the Great Depression. The trike's design was practical for the time. As a result, the Servi-Car was popular with small businesses and mobile vendors. In addition, the Servi-Car was popular amongst police officers. During 1932 – 1973, Harley-Davidson's trikes were practical. However, the Tri Glide Ultra Classic design began to focus on comfort and cruising.
Features of the Harley-Davidson FLHTCUTG Trike
The Harley-Davidson FLHTCUTG Trike took inspiration from their touring bikes. During production, Harley-Davidson worked with Lehman Trikes. Lehman Trikes would provide Harley parts and services for their new model of three-wheel motorcycle. With three wheels, the Tri Glide Ultra Classic lost some sport-style. However, it gained stability as a result. This cruiser has major baggage areas, leading it to be an ideal touring bike. In addition, there is less of a learning curve when it comes to driving. However, the trike is bulky and wide compared to other cruisers. Despite this fact, the Tri Glide Ultra Classic is one of Harley-Davidson's top-selling motorcycles.
Harley-Davidson Tri Glide Ultra Classic was the ideal bike for older riders. After all, the three-wheel model is easier to balance. In addition, this trike gained a following with female riders and people with health issues. Furthermore, Tri Glide's popularity has risen as people noticed the advantages of three-wheel motorcycles.
Since the trikes production, Harley-Davidson has produced a new model each year. Furthermore, the FLHTCUTG Trike led Harley-Davidson to add to their trike collection. Although their Street Glide Trike is out of production, the Harley-Davidson Freewheeler is still manufactured today. While trikes are less sporty, these motorcycles are great for travel.
Sell My Harley Quote Form