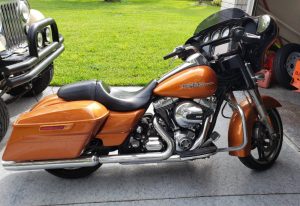 At Sell Us Your Bike, we are always looking to buy a Harley-Davidson FLHX Street Glide. The FLHX Street Glide is a popular model of Harley-Davidson that is always in high demand.  Introduced in the summer of 2005, the Street Glide boasted new features and a great ride. In addition, the Street Glide has gone on to become one of the biggest selling touring models for Harley-Davidson.
Another great feature of this model is the larger 6-gallon fuel tank. This allows for longer cruising range with fewer fill-ups. Also, newer models compared to the 2007 model, now accelerate quicker, better stopping, and travel farther.
Harley-Davidson FLHX Street Glide vs The Road Glide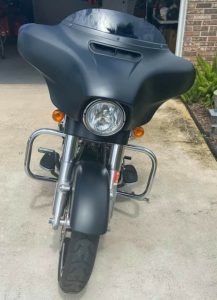 In addition to the Street Glide, Harley-Davidson also has the Road Glide model. Although they look similar, there are a few differences in the models.  The Road Glide comes in about $300 less than the Street Glide.  Also, the Road Glide has a lower seat, total weight, and height. So if you prefer a lower ride than the Road Glide is for you. If you want to ride higher a little more than the Street Glide is for you.
Harley-Davidson has a rich history of making quality motorcycles in the United States.  They provide a large variety of models to fit any type of motorcycle rider.  At Sell Us Your Bike, we are huge fans of Harley-Davidson.  We know, that buying a new Harley-Davidson can be a little pricey at times. But you cannot beat the quality of the brand. So when it comes time to purchase a new Harley and you are looking to sell your old one, turn to Sell Us Your Bike.
No matter if you are trying to sell a Harley-Davidson FLHX Street Glide or a Road Glide, we are interested. With the cash you can get from us, you can use it as a down payment on your new bike! Most dealers are looking to low ball you on a trade-in and selling yourself can be a giant headache.  Use our easy quote form, get an offer, accept, and we will issue you a check and arrange to pick up. It is just that simple!
Finally, get the cash you deserve for your used motorcycle at Sell Us Your Bike. Give us a call today at 1-800-963-9216!