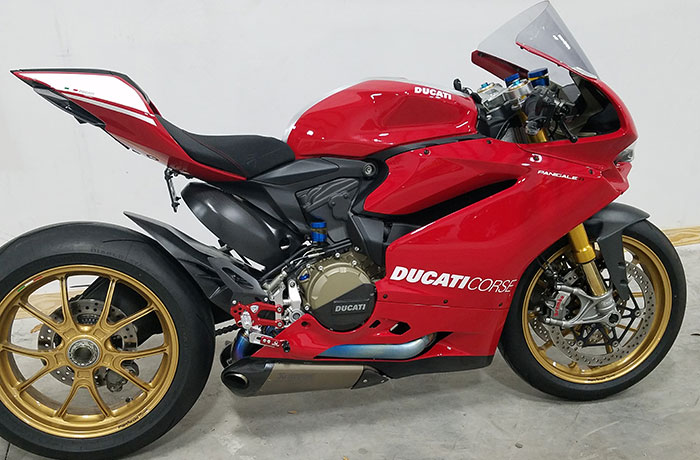 The Ducati Corse Panigale truly is a bike of history. From the company's birth in 1926 to surviving through WWII, the Ducati bikes are of the most interesting with regard to the past. The bikes were first created by three brothers, Adriano, Bruno and Marcello Cavalieri Ducati, which input the importance of family values in the business. Because of this, the Ducati brand is one of the most respected and admired brands in the worldwide motorcycle industry.
Owning a Ducati Corse Panigale
Ducati bikes are some of the best in today's market. Especially the Panigale that is at "the highest peak of technology and Ducati design to reach the maximum performances".
From their sleek and weather-resistant paintwork to their glorifying breaths of exhaust, nothing can beat the Ducati Corse Panigale. Even when parked in a parking lot full of other bikes, you will see the Ducati and recognize its superiority amongst the others.
There is nothing better than getting on your Ducati Corse Panigale after a long day and letting the wind lick at your face. You forget all problems when on a bike of this caliber. If you like to get out after a long day at work, this is the bike for you. With their powerful twin engines and lightweight composition, the Ducati Panigale bikes are top of the range sportbikes. They can move up to speeds of 202 miles per hour or 325 kilometers per hour.
Sell to Sell Us Your Bike!
If you are looking for some extra cash this season, sell your Ducati Corse Panigale to Sell Us Your Bike! We can get you your money fast with our Express Free Pick up and fast transactions. Sound too good to be true? It gets better. We offer the best prices for your bike and will pay you immediately. No need to cash a check or wait for a bill to come through. Just fill out our free quote form! Sell Us Your Bike is the best option for you, so contact us today!