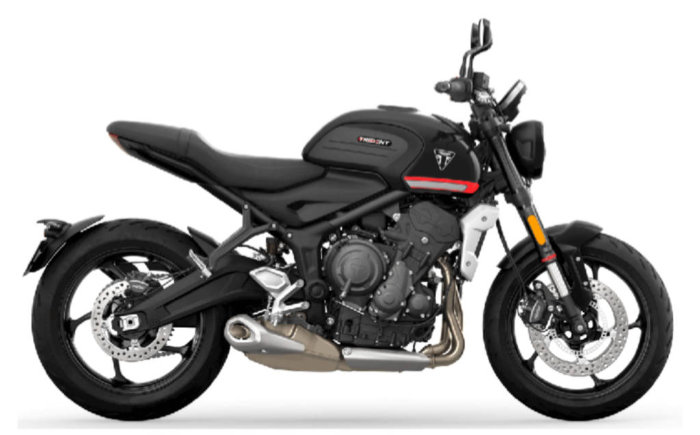 This British bike was first developed back in the 1960s. The first Triumph Trident was available in the US in 1969.  During this time the Triumph competed with the available Hondas. In the early 1970s, the Trident introduced its first five-speed. Throughout the 70s Tridents dominated the racetracks.
Triumph Trident Today
Of course, these bikes have come a long way since their early years. The newer Trident 660 is an exciting all-new motorcycle. It has a triple engine performance and leading technology and handling. In addition, these bikes are usually reasonably priced compared to others in their category. These bikes feature switchable traction control and ride by wire throttle.
These motorcycles have an 805mm seat height as well as a relatively lightweight coming in at 417 lbs. Also, one of the best things about this bike, it has the lowest service workshop time. Which means you will spend way more time riding than repairing.  The engine is now a 660 cc triple powertrain that can really get up and go.
When it comes to handling, it has some of the best compared to others in the category. When it comes to safety and handling the Trident is top of its class. These are just some of the many benefits of owning a Triumph. Of course, if you are currently looking to sell your bike we are interested in it. The best part is we make the whole process simple and hassle-free!
Simply fill out our quote form, then we will respond with a great offer. Once the price is agreed upon will issue a check and arrange to pick up the bike. It is all just that simple! Finally, when it comes to a Trident bike you have one fine piece of machinery. But if you grow tired of it and want money for a new one, sell your old one to Sell Us Your Bike!