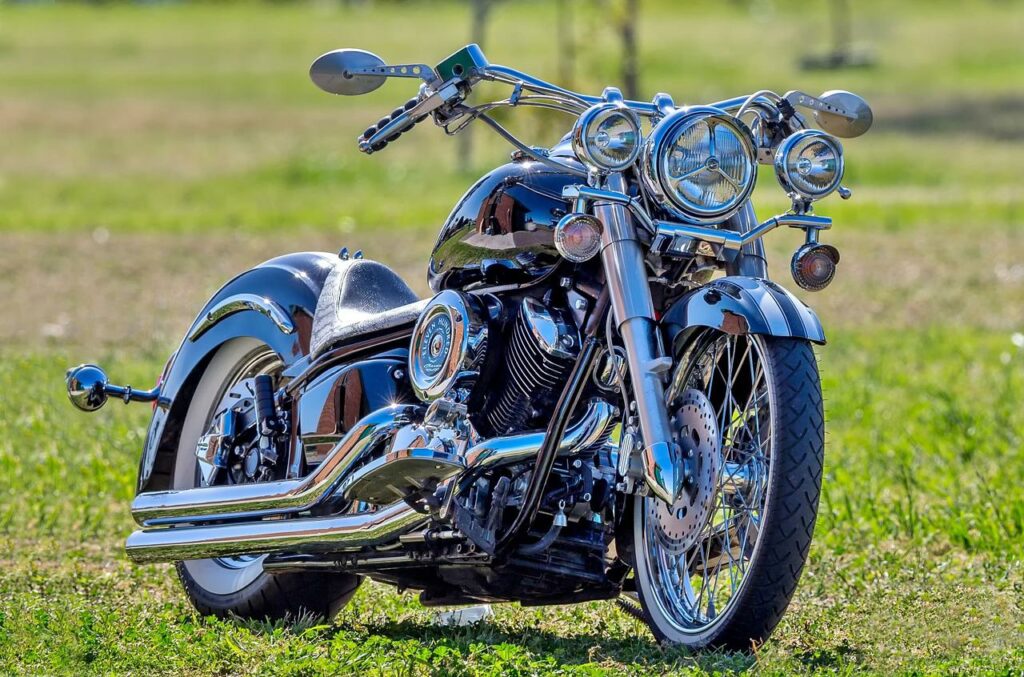 Yamaha V Star
Type: Cruiser
Size: Midsize – Large
Engine type: Air-Cooled V-Twin Engine
CCS: 942- 1500cc Engine (depending on model/year)
MPG: 42-78 (depending on model/year)
Fuel Capacity: 4.5 Gallons
Transmission: Five-Speed
---
The Yamaha V Star made its debut in 1994. The Yamaha company wanted a stand-alone brand name for the American cruiser market. As a result, they created the Star Motorcycle brand. Although Yamaha dropped the US-specific Star brand, these motorcycles are still making an impact!
With a smooth style and classic look, the Yamaha V Star has a lot to offer. The V Star is a versatile motorcycle that is easy to handle, making it ideal for beginners. This is an excellent pick for your first motorcycle. However, experienced riders can get also enjoy the V Star as well.
The Yamaha V Star is well known for its modest sticker price, making it a great motorcycle to start with. The V Star Custom can be a less economical choice than some others but is as the name implies, more customizable.
Although this motorcycle is classified under the cruiser brand, many people say this bike is best for shorter rides. Extended rides have caused some people's rider fatigue and vibrations from the bike are less than ideal. Other reviews of the bike say that any kind of sharp turn will cause the pegs to meet the pavement. Some people want more get up and go, some a more comfortable ride, either way, we are willing to take this bike off your hands.
Sell Us Your Yamaha V Star
Sell Us Your Bike gives cash offers for motorcycles, ATVs, and watercraft! We offer a sensible no-nonsense approach to buying bikes that won't waste your time or energy. We want to help get your old power sports vehicle off your hands as easily and stress-free as possible. All sellers have to do is submit an appraisal form. After that, Sell Us Your Bike will drive to you to pick up your powersports and give you your cash. It is that easy!
We are always looking for great cruisers and we will buy from you! Below you can see we have our appraisal form that you can fill out and get your free quote today.
---
Get A Quote For Your Vehicle
We Want to Buy!