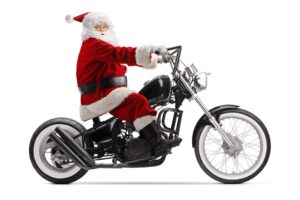 Everyone should want a Harley Davidson for Christmas! This is one of the most popular motorcycle brands in the United States and for a good reason. There is a reason why people are willing to buy Harley Davidson motorcycles at top dollar.
Why Do People Love Harley Davidson?
You might be wondering why this motorcycle brand is so beloved. Fortunately, we have the answers for you! First of all, these bikes come in all shapes and sizes. Harley Davidson is known for their heavyweight bikes, which are amazing for some riders because it provides stability. Whether you want a cruiser or a touring bike, the brand has it all. Furthermore, they have their own Trike Motorcycle!
Another appealing aspect of Harley Davidson is the fact that they are built to last. When it comes to motorcycles, you don't want to have to replace a vehicle within a year. You need a bike that promises years of excellent performance. Harley Davidson is able to deliver on that promise! This brand has insane durability. Even when parts get worn, the company has replacement parts available to keep your bike going for years to come. In addition, Harley Davidson is dependable when it comes to performance. All of these bikes' have amazing engines that can be adjusted to build and repair any issues that come with age. Finally, maintenance on these motorcycles is easy!
Harley Davidson for Christmas
While buying a Harley Davidson in the northern states is not ideal, other places like Florida have motorcycle season all year round! That's why a Harley Davidson would be an amazing gift for the holidays! There are many motorcycle groups that are exclusive to Harley Davidson riders, meaning giving someone a bike for Christmas opens a whole community to the rider. These motorcycles are also extremely customizable, meaning you have a large selection of accessories to choose from. However, you could also sell your Harley Davidson for cash this holiday season.
Selling Your Motorcycle
The best part about Harley Davidson is its amazing resell value! While a Harley Davidson might be an amazing gift, the cash that you can get from selling one is even better. The holiday season is stressful enough as it is between shopping and bills. However, selling is easier said than done. It is not easy to sell a motorcycle, even with a popular brand like Harley Davidson. If you want to sell your Harley fast then you should consider Sell Us Your Bike! All you have to do is submit a quote and our professional team will give you an offer. Afterward, we will come to pick up your motorcycle! It is that easy. So, why stress yourself out this holiday season? Sell your motorcycle to Sell Us Your Bike.