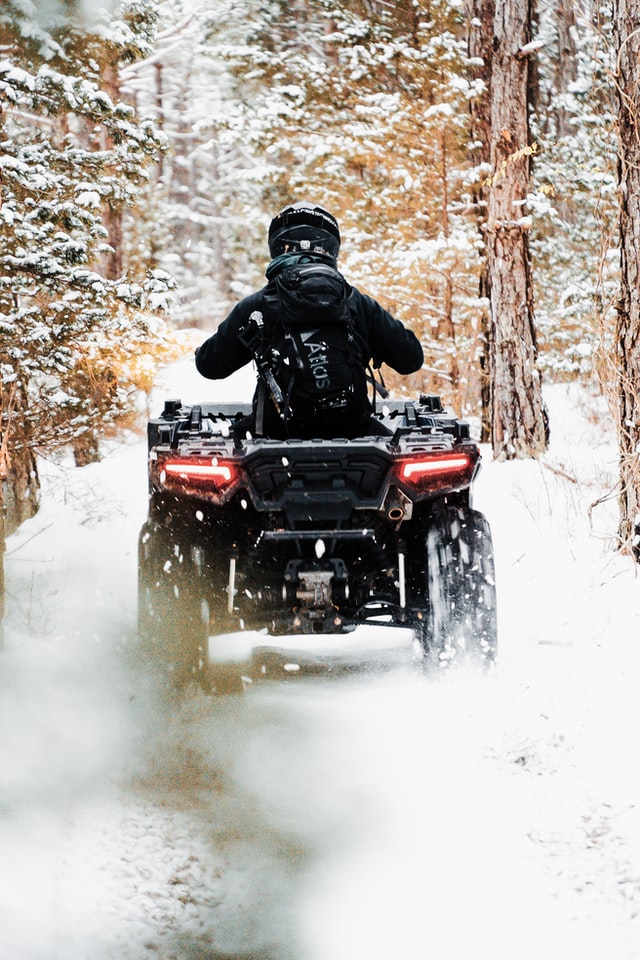 Winter accessories for your ATV are always a benefit. Regardless of the season, ATVs are always a thrill to ride. This includes the winter months. Nothing says fun like spraying snow everywhere with your four-wheeler. There are more uses for ATVs in the winter besides entertainment. While you are using your ATV in the snow, there are some accessories that are essential!
Winter Accessories
Whether you are riding a utility ATV or a sport ATV, winter items can be important. These accessories can increase the quality of life for ATV use. In addition, these items can add functionality to your ride. So, here are list of a few accessories that you should be looking at it.
Snow Plows
For those living in Northern states, people know how intense snow can get. Large amounts of snow can be hard to shovel. Adding a snow plow will make an immediate difference. Instead of exerting a lot of physical strength, your ATV does it for you. There are a variety of different sizes and shapes.
Warmers
Warmers are definitely a quality of life addition to your ATV. When riding in the snow, your body can get cold fast. Although can put handwarmers in your gloves, it does not compare the warmth of an electric heater. Fortunately for ATV riders, heated grips are available! After you use these grips, you will never want to go back. You can also buy heated seating and even a thumb warmer. You shouldn't even think of riding without any of these accessories.
Track Kits
Track Kits are useful for all types of ATVs. Getting stuck in the snow is the worst thing that can happen. Just like getting stuck in the mud, your ATVs can get trapped in some heavy snow. This leads to wasted time as you try to free your vehicle. However, this all can be avoid with the track kits accessory. These kits keeps your ATV above the snow by creating a bigger 'footprint' for your vehicle. All of these tracks vary in price and design.
These winter accessories for your ATV can make your winter ATV life better than ever!
---
Sell Us Your ATV
However, you might not be looking for accessories. In fact, you might be looking to see your used ATV instead. There are many reasons to sell. Furthermore, a lot of people are always looking for used vehicles. Yet, finding the right buyer can be a challenge. At Sell Us Your Bike, we make selling your used motorcycles, ATVs, and other powersports easy! Just submit one of our free online quotes and we will give you best offer around. We want all makes, models, and brands of powersports. So, if you have it, we want it. Don't wait. Fill out a quote today!