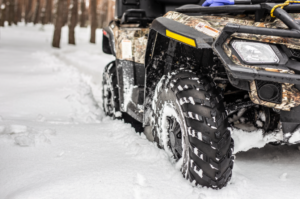 Are you considering selling your quad this winter?
Let's be honest, selling during the winter season can be difficult. While you might have more bidders, the majority of Powersports prices decrease because it is the off-season. As a result, you might not get the right price for your motorcycle, PWC, or other vehicles. However, selling your quad might be the exception.
All Year Round Demand for ATVs
While many Powersports' prices decrease during the winter months, the price of ATVs does not fluctuate as much. As All-Terrain Vehicles, quads can handle a variety of road conditions. This makes ATVs perfect for icy and snowy terrain, making them useful all year round. In addition, ATVs provide multiple benefits that keep their demands going throughout the cold season.
Plowing With a Quad
During the winter, one of the major bonuses of owning a quad is its ability to plow snow. This is especially true the more north you go. In Buffalo N.Y. you can imagine that a Quad with a snowplow is probably the go-to vehicle for many a homeowner. If you have a certain attachment, snow plowing can become easier. Although you will have to explore different plow attachments to see what works for your ATV, this will make yard work easier. In addition, the effectiveness of your plowing is based on weight, not horsepower.
Utility Vehicle Use
While snowmobiles are one of the best ways to travel in the snow, they lack the utility that an ATV or UTV would have. Both variations of the quad allow you to carry supplies and equipment around, especially if you add features and accessories to your vehicle. Many people will use ATVs for ice fishing because it has a lower ice thickness clearance. Some of these vehicles are used by staff on ski resorts and slopes to maintain the property.
Selling Your Quad Today!
The year-round demand for these vehicles makes selling your quad in the winter months an option without losing its value. This is especially true in the upper Mid-West. However, selling any type of Powersport vehicle can be a challenge. Fortunately, Sell Us Your Bike makes this process easier with our streamlined system. Best of all, we will give you cash for your used quad!