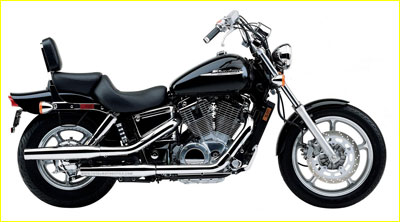 Type: Cruiser
Size: Small to Midrange
Engine type: liquid-cooled 45 or 52-degree V-twin engine
CCS: 125 to 1,100 cc engine displacement.
MPG: (City) 56
MPG: (Highway) 56
Fuel Capacity: 3.7 gallons, including 0.9-gallon reserve
Transmission: Wide-ratio five-speed
This bike is one of the smallest in the cruiser class, in both physically and in engine size, but don't let that put you off . Its liquid cooled V-twin engine is nothing to scoff at and is known for pumping out the torque. Recent models have added a PGM-FI fuel-injection system with single 34mm throttle body, dual injectors and IACV (Idle Air Control Valve) that will give you a smoother, more powerful and responsive ride. This system also makes it so you can be assured that you bike starts in cold weather and high altitudes without an issue. It features excellent braking and handling, which makes the bike a great fit for first time motorcyclists or seasoned riders looking to get back on the bike. Â Optimal performance, easy to ride, and reliable have been used to describe the Shadow Spirit and with the Honda name behind it, you know it's a quality cruiser.
It has classic retro look with a sporty attitude, but still enough power so you can enjoy the open road. The dual shotgun exhaust system flows into large diameter silencers that ensure you get the deep rumble that the V-twin engine can deliver. Comfortable low seat saddle, and dual rear suspension is great for riders and passengers alike. This is the bike you want when you need an easy reliable ride for either the daily commute or the weekend cruises.
Honda's long line of great cruisers are always a high priority for us to buy from customers. From Atlanta to Dallas, we buy bikes from all over the country!
Get A Quote For Your Vehicle
We Want to Buy!