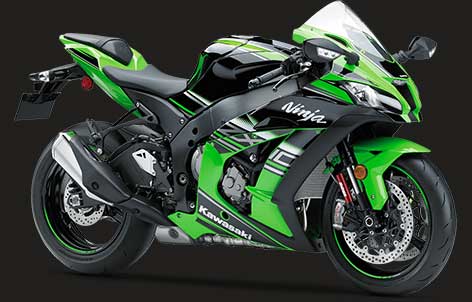 The Kawasaki Ninja ZX-10R is the preferred bike by championship rider Tom Sykes. The Kawasaki Ninja ZX-10R is designed for the race track. Furthermore its speed and handling are some of the industries best. The Kawasaki Racing Team works with the design team to help create one of the fastest bikes around. If you are looking for a fast bike with great handling for the track or the streets the Ninja ZX-10R is the motorcycle for you.
Kawasaki Ninja ZX-10R Engine Details
First of all the Ninja's engine is 998cc of proven power. The engine is a four-stroke, liquid cooled, DOHC and has four valves per cylinder. Also the fuel system has DFI with four 47mm Keihin throttle bodies with oval sub-throttles and two injectors per cylinder. Another great aspect of the Ninja are the brakes. The front brakes have the Intelligent Braking (KIBS) with a Brembo dual semi-floating 330MM discs. While the rear brakes are KIBS-controlled and have a 220mm disc.
With all this speed and power you would think the handling would suffer, yet the bike handles perfectly. The bike is designed with a comfortable and easy ride while still having great wind protection. This bike is built for speed but still handles great and make it a high demand bike.
The Selling Process
At Sell Us Your Bike we are always looking to buy Kawasaki Ninjas from the year 2000 to today. If you are looking to sell your bike please fill out the form below and be as accurate as possible. Of course if you do not like forms, you can give us a call at 1-800-963-9216. Do not go through the hassle of selling it your self or trying to trade it in at a dealership. With us it is easy, fill out the form, get an offer and receive a check just that simple.