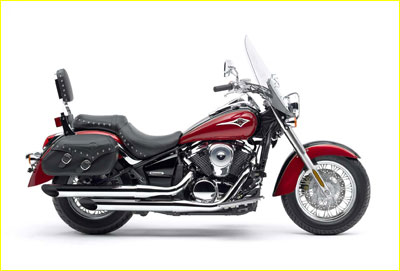 Type: Cruiser
Size: Midsized
Engine type: Â Four-stroke, liquid-cooled, SOHC, four valves per cylinder V-twin
CCS: 903 cc
MPG: 45 mpg
Fuel Capacity: 5.3 gallons
Transmission: 5-speed, return
The Vulcan 900 line has a lot to brag about. Touting "Best in its class" by Kawasaki in many different departments, this bike has more to it than a pretty face. Quality, style, and the Kawasaki name behind it makes for not only a quality ride, but a force to be reckoned with. In the Vulcan class you are give a few options of bike: The Classic, the  bolder Custom, and the "adventure bike" Classic LT. With three different styles to pick from, it can be a hard choice for any rider.  All of them lay on the beefer side of most mid-sized cruisers with the 903 ccs, but everyone we talk to doesn't seem to mind. Sporting the clean "retro look" each bike gives a different reason to turn heads.  Don't get us wrong, we love the classic retro look, but there is more to these bikes than that. They are packed with one of the most capable engines in its class, a fuel-injected unit that cranks out 58.2 lb.-ft. @ 3,500 rpm and is paired with a five speed gearbox. The transmission offers a positive neutral finder, which new and seasoned riders like when they want to feel the neutral detent. The single-pin crankshaft and balancer reduces vibration, which is appreciated after those long rides.
Kawasaki has had a great line of cruisers and they are always in high demand for us to buy. From Michigan to Florida, we buy bikes from all over the country! Please FILL OUT THE FORM BELOW and we'll give you a QUOTE TO BUY your Vulcan 900!

Get A Quote For Your Vehicle
We Want to Buy!