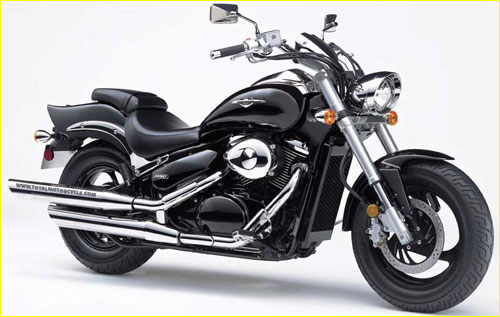 Type: Cruiser
Size: Midsized
Engine type: Fuel-injected, liquid-cooled, V-Twin
CCS: 805cc
MPG: 43.27 mpg
Fuel Capacity: 4.1 gallons
Transmission: 5-speed
In an effort to round out its power cruiser line, Suzuki launched the midsized M50 line back in 2005. Rider friendly, comfortable, and well balance have all been used to describe the M50. Sporting the muscle bike style and the Suzuki signature headlight, this bike has everything a cruising bike needs. Comfortable seats, good amount of power, and easy handling make for an enjoyable riding experience.
If this bike could be described in a few words "Easy" would definitely be one of them. Smooth start up, nice relaxing ride, and easy shifting are all things that have been said about the Boulevard. It keeps it weight low to ground which makes it great for the side to side changeover and it has a great side to side, front to back balance. With these types of bikes every one wants to a have a strong low rumble, and the Boulevard definitely delivers.
Mostly catered to the new and intermediate riders who are looking for a comfortable ride. This bike has the pick up and go to get on the highway, but that's really about it. With only 5 gears some riders who have switched over to the cruiser class are left wanting more.
If you've outgrown your M-50 and are ready to move into a bike with a bit more power, we are ready to buy. Fill out the form below for a free quote, and get cash in hand for your bike. No Hassle, no run around, no locking you into buying a new bike with us. We buy bikes from all over the country, from California, to Maine and every where in between. So get an idea of what you bike may be worth, fill out the free appraisal form today.