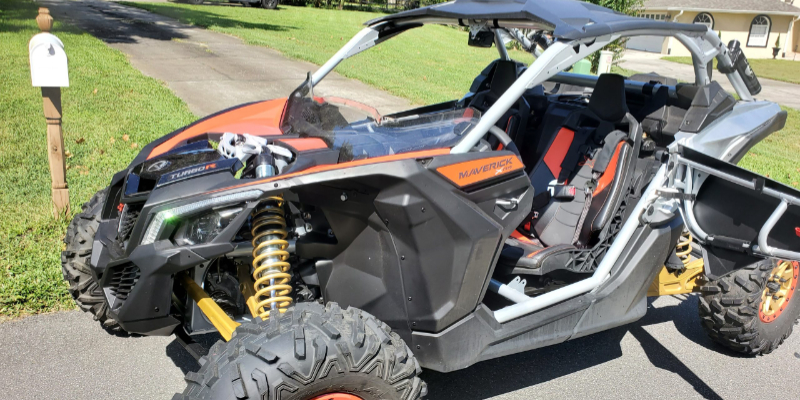 The fall season is almost here.  That means it's the perfect time to sell your ATV! Unlike snowmobiles and motorcycles, ATVs are versatile vehicles that are useable all year long. From Spring through Winter, you can ride an ATV regardless of the weather. Many consider the Fall the prime time to sell and use an ATV however, there are a few ATVs that will sell better than others.
Can-Am
This brand of ATVs has a lot of different types that can suit the needs of every rider. Need something that has great overall utility? The Can-Am Outlander model is designed to handle any task. Whether you are working in agriculture or hitting the trails, the powerful engine and rugged wheels can do it all. With all this going for it, no wonder the demand is high for you to sell your ATV this fall.
Want something more sporty? The Can-Am Maverick is a side-by-side UTV that lets you off-road in style and with friends! From the forest to sand dunes, the Can-Am Maverick is a great choice. In addition to great power, this UTV has terrific handling.
Polaris Off-Road Vehicles
The Polaris brand has an extensive catalog of off-road vehicles that people are eager to get their hands on. The Polaris Sportsman is the perfect combination of recreation and utility that a 4×4 needs! They also have various side-by-side for recreation needs like Trails or utility purposes like the Ranger. They have ATVs that can handle various terrains like dunes, mud, or even mountains!
Other Popular ATVs
Outside of these exceptional brands, there are plenty of ATVs that are a standout. Need an ATV that is a beast? Try out the Yamaha Raptor! The Raptor can give a thrilling ride for a sports ATV. There is also the Honda TRX! The original TRX was only in production for a few years, it gained the reputation of being the fastest ATV around.
Sell Your ATV Now!
Reading all this you may be wondering why you'd want to sell your ATV this fall. Well, that is not for us to decide, however, if you are looking to sell your used ATV, then contact us! Our company buys the hottest brands of ATVs and gives you cash on the spot for them!