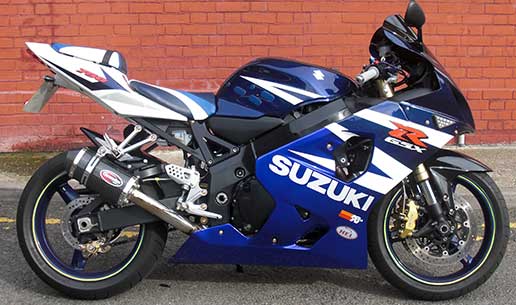 The 750cc engine and sharp handling make the Suzuki GSX-R750 one great sport bike to own. The Suzuki GSX-R series have been designed to provide unprecedented levels of agility and performance. The 4-cylinder engine can produce astonishing high RPM power delivery. The Engine Control Module (ECM) gives you state-of-the-art engine management and has settings to control exhaust and intake systems to provide better fuel economy.
Further more the front brakes on a Suzuki GSX-R750 are fully floating 310MM discs and are grasped by radial-mount, four piston BREMBO monobolic calipers. The Aluminum-alloy frame is designed to provide a balance of light weight and strength.  The GSX series has been around since 1984 and has been a favorite among racers and motorcycle enthusiasts for year.  The Suzuki GSX-R750 has been known for its versatility, its combined power and handling is almost unmatched.
Suzuki GSX-R750 From 2000 and Up
If you are looking to sell your bike and it is a 2000 or newer, we are interested. With the looks and feel of the Suzuki they are always in high demand and we are eager to make you an offer on your bike. The process is easy and hassle free, all you have to do is fill out the form below. Try to be as detailed as possible, the more accurate you are the better offer we can give you. Once we recieve your submission we will send you a fair offer.
When the price is agreed upon, we will arrange pick up of the bike and issue you a check, just that simple. Fill out the form today and get the cash you deserve for your used Suzuki bike. We have been buying bike for a year and we are the best source on the internet to day for cash for your bike!