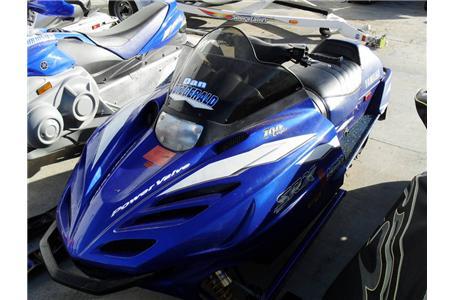 Type: snowmobileEngine Type: Triple cylinder engine

CCS: 700

MPG: 10-14

Fuel Capacity: 12 gallons

Top Speed: 114-116

Back in 1968 Yamaha decided to make their first snowmobile, twelve years after they rolled out their first bike the YA-1 Motorcycle. Since then they've been at the top of the list for best-performing sleds on the market, year after year they keep upping the game and the SRX is no exception.

Sleek style, lots of power, and a level of performance that's hard to match. Engineered to have aggressive yet controllable weight transfer so you can make the sharp turns that you want to. This is the kind of sled that reminds us why we love winter Powersports so much. Even though it's max ccs is 700 this guy has beaten the competition's 800cc sleds in snow drag competitions. Powerful and it has the get-up and go you might be looking for. If you need to reel in though the hydraulic brake system has an effortless response and helps the rider feel in control of their sled. The Yamaha is known for how much raw power and drives you would expect from a snowmobile.

For some though it may be a little too much get up and go, or you may have just outgrown your old snowmobile. So if you want to slow your roll or are just looking for some extra cash we can help.

We want to buy your used Yamaha SRX 700 from anywhere in the country, from Washington and Wisconsin to Maine and New York. We will buy your used Powersports vehicles from you, with no hassle involved. We've been in the business long enough to know how much of a pain it can be to sell used vehicles, so let us take the stress out of it. We've even included our appraisal form below so you can get your free quote today. So if you need extra cash, or are looking to make some room in your garage contact us today!
Get A Quote For Your Vehicle
We Want to Buy!