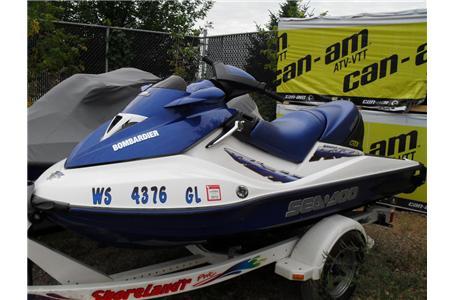 Manufacturer: Sea-Doo
Model: GTX 4TEC
Type: Personal Water Craft
Size: 3 Person
Engine type: (varies depending on model year) post 2001 – Four-Stroke, three-cylinder Rotax SOHC 2001
CCS: 1,494 cc
Fuel Capacity: 15 gallons
Fuel Type: Regular unleaded
Transmission: Direct drive with forward/neutral/reverse
If you have ever ridden on the GTX 4 then you know what riding in style is like. This luxury cruising watercraft vehicle is known for its commitment to quality with balancing a smooth ride that packs a punch. Bom from the brain child of BRP (Bombardier Recreational Products) back in 1968, the first version of the Sea-doo brand was launched. The GTX 4 tec line has been in production since 1995 and has only gotten better since its original inception.
Its gone through several body redesigns and several upgrades with some innovations along the way to become the watercraft vehicle it is today. The most notable was in 2001 with the introduction of the four-stroke multi-port fuel injected engine. This was a great step forward in the watercraft industry, and brought the more power into the game. This ride is quieter, cleaner, and is more environmentally friendly than the previous models. Once you take a ride on the GTX 4 you know you've had the best. We know it doesn't have the "pick up and go" as other models, and that's why we are here to offer to buy it off you!
If you want to get rid of your old GTX sea-doo we are here to buy it. All you have to do is fill out the form below with details of your old GTX 4. We will return with a quote for it. So get cash for your old Sea-doo today!
Get A Quote For Your Vehicle
We Want to Buy!