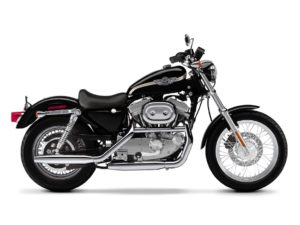 For over 60 years the Sportster line has been a Harley-Davidson staple and has held the title of the longest continuously produced motorcycle in the Harley-Davidson brand. This cruiser motorcycle is designed after the original motorcycle that made Harley-Davidson famous and for the most part, has stuck to that original classic look. Also, as part of the X series family of Sportsters, the 883 comes equipped with alloy heads and overhead-valve engines.
These bikes supply you with a narrow frame, classic styling, and easy maneuverability, which shows you how the Harley name rose to become so famous. This bike is good for going out on the town and supplies you with the get-up and go that you want from a motorcycle.
We Buy Harley-Davidson Sportster
The Sportster 883XL bike is very light and people have said that it doesn't supply the guttural roar that most people expect from a Harley. It has a good get up and go but not the power to match, which has left some people a little turned off. On top of that, it has a higher seat, which is why some people have said this line can be less comfortable than other cruisers.
If you are looking to upgrade your Harley Davidson game, or just wish to move over to a different style of bike, we can help. Here at Sell Us Your Bike, we are always looking to buy Harley Davidson bikes. Not only the Sportster XL 883 but other models as well. Check out our free appraisal form below to get yourself a free quote on your bike.
In addition to Sportsters, we always buy Harley-Davidson Road Glides and Street Glide models as well. It doesn't matter if you are near or far Ohio, Michigan, Texas, Florida, Georgia, and all parts in between, we will buy your bike! Finally, use the form below to get a great quote on your used Harley-Davidson today!
Sell My Harley Quote Form